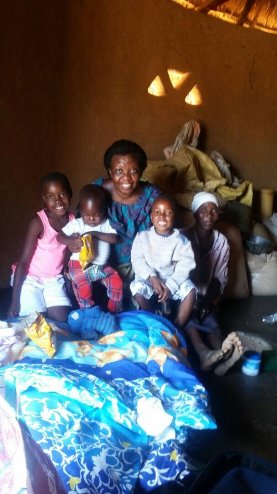 To me life is about saving lives, serving my community and put a smile on an orphan's face. I was born in 1963 in a family of 7 children, to Cornelius Mishek Chikanza and Petronella Grace Chikanza of Umpfure, in Mashonaland Central Province of Zimbabwe. My philanthropic vision and passion is derived from my parents who cared, not only for their siblings and extended family members but also for the less fortunate members of society and encouraging other parents to send their children to secondary schools. It is against this background that I developed into a people- person, visionary and purpose driven. When I shared my passion with my brother Mark who supported the idea because he had the same passion for the orphaned children. I absolutely love to save and transform lives of underprivileged orphans.
I hold a Cert. Ed from the University of Zimbabwe. I am currently studying a BSc Counselling Psychology 2017-2020 with Leeds Trinity University. The pain I felt when my father passed away in 2016 at the age of 90, deepened my passion to save lives and stand in the gap for vulnerable. If I could feel so much pain when I had a comfortable life and career, how much painful it felt to lose a parent below the age of 10. I felt I need the necessary tools to be able to understand whats going on in the minds of these children and be able to empathise with their real needs not what I think is best for them.
My passion to serve the less fortunate children transformed into a purpose in summer of 2001, after I attended a ZAOGA Annual Conference where the preacher inspired me to seek Gods purpose for my creation. Bishop Guti's message emphasised that God would reveal His purpose to anyone who asked him and would give you a very clear vision if you asked Him. I then set aside the first half of the day to do just that for a week. On the third day, I clearly heard a Voice saying go to Matthew 25:31- 40, that is God's purpose for your life. I was delighted that this was a very easy assignment. In my mind I thought I would just buy clothing items, pack them in a suitcase and send them once or twice every year and ask my mother or brother to distribute to the poor on my behalf. I did not know it was a much bigger assignment than I thought.
In April of 2006, I heard a Voice commanding me to start an orphanage project end of May of that year. I was upset why this came at a point where I was at my lowest level with a baby and being jobless with no working visa. I continued to hear this Voice 3 times at 02:30 every morning. I remember talking back asking God why he did not consider the fact that I was jobless and economically uncertain. Desperate to be left alone in peace, I asked God to take the lead and tell me where to get the resources. I would be like a maid and He would be the householder who would provide me and I would deliver.
I went to Leeds market where God showed me that he is Jehovah Jireh. A dark cloud hovered above the sky and it became very cold. Most people left the market. I heard one of the stall owners saying that if anyone came with £40 they would give them all the items, so they finish off the day. I asked them to repeat after which I went to the cash machine and gave them the £40. When I came back they had packed 10 bin liners. They called a taxi which charged me £12 to Bradford. In all there were 247 items which made me marvel at Gods provision. In May, one man from a local church inquired from me on behalf of a friend about shipping companies for Africa. I gave him a card on which he wrote my number in case his friend had some questions. In the following week a lady who introduced herself as June Matley, invited me to visit her charity shop in Denholme. To my amazement she encouraged me to start an orphanage project in Zimbabwe. In my heart I knew she was a God sent angel, a real divine connection. She supported me in the registration of New Hope Kingdom Kids Relief Fund whose aim is strategic intervention to save and transform lives of Zimbabwe Aids orphans. It was through June that I met Pastor Joey Hollingworth , who became a pillar , encourager and one of the founding trustees of the project.
God has brought vision partners in the name of :
Dr, Clement Katulushi
Joey Hollingworth
Pastor Louis Mbang
These wonderful men of integrity jointly supported the registration of New Hope Kingdom Kids Relief Fund as a charity in England in 2011. We run our fundraising activities through our charity shop at 34 North Street, Keighley. We send 10 barrels of clothing every year which our team in Zimbabwe sales and trebles the amount we are supposed to send. We are a small charity , which the bulk of funds raised go towards rent and bills so sending barrels of sellable clothing items results in us being able to meet our targets. Many thanks to Mark Chikanza who is our Country Director and Belinda Kaseke our charity Worker who is responsible for pricing and selling at our Zimbabwean charity shop and who selects the children we support and liaise with school to support our orphans. Thanks to this wonderful team for the purchase of an 8-acre plot where we are to build a children's home, learning centre, Art and Craft centre, and charity shop.